Day at Naplo
20.04.2006
Today is Thursday. This is my sixth day in Lima and now everything looks much more familiar. I go almost everyday to Miraflores, not that there are so many interesting things to see there, but just because it brings me so many memories.
Today, according to the plans of the special comitee called Cupula, we will spend the day in Naplo (50 km south of Lima), in the Monica's summer house.
We met in Miraflores, near Larcomar, around noon. Before that, I bought new sunglasses in Saga, and passed the whole avenida Larco to get in front of Larcomar shopping mall. The bus was waiting.
The drive to Naplo was unforgettable by itself. First, we passed through the Chorillos and then, driving through the desert we headed for Naplo. We were singing all songs we knew and the big hit was of course the class song.
Naplo was out-of season empty, but in Monica's house everything was ready: DJ selecting and playing great music, self-serving tanks of beer, summer chairs and two motor boats.
We started drinking beers and cocktails, enjoying a wonderful sunny day. After some time, we got on one of the motor boats and took a ride along the coast. We visited Pucusana and had a great sightseeing of it and Naplo.
Then we got hungry. The food was already waiting and we were served causa and papa a la Huaycaina. At the end, my favourite cake milojas con manjar blanco.
Just before the sunset, we started dancing, carving into the memories each moment that we are spending together.






Empty village, full heart
Juan, Jessica and Erika Noeth
Erica, Eduardo Rivadeneyra (Choco) and me
The food was excellent: causa, papa a la Huaycaina and milojas (manjar blanco cake)
Ana and Danka
Jaime Cahuas, Ana, Susana, Guiliana, Alberto, Danka, Janet and Walter
Susana Rodriguez (Polla) and Miguel Vivanco (cookie)
Juan, Juan Carlos Vasquez, Monica, Miguel Vivanco, Walter, Susana, Ana, Eduardo and Jaime
Jaime, Ana, Choco, Jessica, Erika, Susana, Cookie, Janet, Monica, Alberto, Juan, Perla, Walter, Juan Carlos Vasquez, Guiliana and Danka
Ana, Monica, Susana, Jaime, Eduardo and Erika
After Naplo: The same day, in the evening, in the FDR college, it was organized a cocktail, so we decided to go there directly from the beach. We were already running late, so in one moment, we all got out of the bus in Chorillos trying to catch a taxi to hurry to school, but when we looked around we noticed that we were just in front of some prision. We changed our mind and returned quickly to the bus. Choco and Walter didn't react so fast and stayed out.
We arrived to the school. Everybody in and out was in suites and night dresses. I entered the school's gate, after 25 years!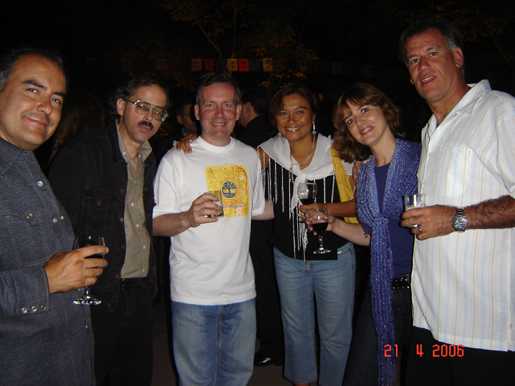 After the cocktail in the college Franklin Delano Roosevelt we went to the caffe/disco Mar in San Isidro, near the Alcazar cinema. After dancing, we gathered in the sandwicheria to eat anticuchos, sandwich "butifarra" and drink chicha morada.